GPS N 47°44'32,8", E 18°7'43,73"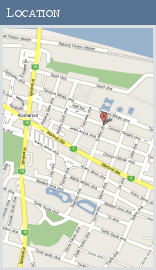 Short introduction
Our town is popular among foreigners and Hungarian people alike. That is why a part of the population deals with tourism. The owners of Ilona Apartment House try to do everything for the guests' comfort.

Apartments with private entrances-room, kitchen, bathroom-are well equipped. We paid attention to the selection of the appropriate mattresses for the relaxed sleeping.

Our guests can use bicycles free for riding in the city and the surrounding area. We offer Swedish massage on the premise.

The location of the apartment house is favourable. It is three-minute walk from the spa, eight minutes from the town centre, fifteen minutes from the Slovakian border.

There are bakeries, groceries and discount shops near the guest house.

Ilona Apartment House is awaiting its guests all the year.