GPS N 47°44'32,8", E 18°7'43,73"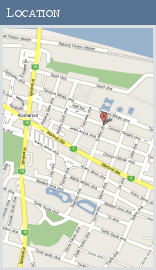 Sightseeings
Komárom is situated in the southeast edge of "Csallóköz", at the meeting of the Vág and Danube Rivers. It is one of the oldest settlements of the Carpathian Basin.

The Celts settled here, then the Romans established a town and a legionars camp whose name is Brigetio and can be found on the right bank of the Danube. At the age of migration of nations the "Avars" were here for a longer period. In the 10th century a castle was built at the estuary of Vág and Danube after the Hungarian conquest. Komárom became the county town of Komárom County during the organisation of the Hungarian state. In 1265 King Béla IV. gave the privileges to the town that towns got at that time. In the middle of the 16th century the "Öregvár" was built as a fortress against the Turkish. It was at the place of the medieval castle. The "Újvár" was added to it during the rule of Leopold I. in the 17th century.

The town became the centre of corn trade and guild corporations in the 18th century. Mary Theresa raised the town as a free royal town in 1745. A great earthquake destroyed it in 1763 and 1783. The Austrian court renewed the Komárom fortress due to the Napoleonic Wars. They decided to convert it into a fortress system which could accomodate 200.000 soldiers. Building of the fortresses was broken off by the War of Independence in 1848/49. On 17 September, 1848 a fire destroyed the two-thirds of the town. The destruction was followed by the guns of the emperial troops the following year. Klapka György general and the guards of the town resisted to the attack but the town was in ruins after the fights. Building of the fortress system was finished in the70s of the 19th century when the permanent bridges of Vág-Danube Rivers were built.